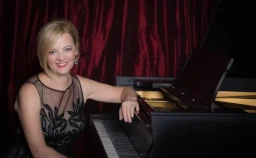 French-born Kiki Cubb has been busy composing on her piano with nine singles available to purchase online and her forthcoming debut full-length record.
Maine Composer Finding Her Audience
Being a composer takes dedication and years of hard work to be successful. When the person in question creates something truly beautiful, all of that time and energy spent on the artistic craft becomes invaluable. The state of Maine has no shortage of local bands and musicians creating music for all to enjoy, but finding a composer is like finding a needle in the haystack.
Kiki Cubb, who lives in a town near Bangor, has been playing piano for most of her life and it's paid off immeasurably. "I have nine years of classical training," Cubb elaborated. Cubb began composing on her first keyboard and escalated five years ago when she obtained a Steinway that was over a 100 years old. Her influences are rooted in classical and new age music with a strong romantic presence found in her music. "I love the romantics like Tchaikovsky, Rachmaninov, Chopin, et c… My compositions are on the romantic side. Though my music is not classical, it is closer to that genre than it is to pop music," said Cubb of her own unique style.
Tragedy struck Cubb when a house fire struck. "A fire destroyed my house and though my piano was saved it went in storage for three years. I did not play at all during that time, as first of all I was in survival mode and also because I did not have access to my piano. I resumed playing last February and started composing again," said Cubb.
Cubb is not a typical composer in the way she creates based on one key factor: she doesn't write anything down. "My creative process is still some kind of mystery to me because most of the time I don't make a conscious decision to create and I am not influenced by anything specific. I just sit at my piano and it will just happen," said Cubb. Instead of writing anything down, Cubb memorizes her compositions when she creates them to ensure they are played the same way every time. Cubb records her music on her cell phone as well as video tapes herself to assist in this process.
Cubb's compositions are created from the emotions she's feeling at the time of creation. "I let my heart dictate what gets created. If I am happy, lighter music will be created that day," Cubb said.
When Notre-Dame in Paris, France caught fire last year and resulted in the roof and spire destroyed as well as other damages, Cubb, who was born in France, felt a great deal of pain. "As I was watching the cathedral in Paris burn live on TV, I was heartbroken. The next day as soon as I woke up I went on my piano and in 10 minutes I created a composition reflecting my sadness." The song, titled "Notre-Dame", is available for purchase on iTunes.
Along with "Notre-Dame" there are eight other singles available to purchase digitally at most online music stores. Cubb has been recording a full length record and has recently completed the project. She has stated that she will be selling the album independently starting in a couple weeks. Her work is not going unnoticed by the community as her Facebook page has jumped from 2,100 to over 12,000 "Likes" in the last month.
Cubb has great aspirations for her music and is determined to meet her aspirations. One of her goals is to have her original compositions featured in a film. "As soon as I started composing 10 months ago at a more intense level, I deeply felt that my compositions would be great for a movie soundtrack. I feel this way more and more as time goes on," Cubb explained. After listening to several of Cubb's compositions, it's hard to argue that her music wouldn't make a great fit for a film or television program. Her songs are emotional and would fit in nicely as part of a soundtrack.
While Cubb has stated that it is too soon for her to think about touring, her first full-length record will be available to purchase soon through Cubb herself. A digital version will be available for purchase on online music retailers by the end of May. For now, you can enjoy nine of her compositions on various streaming sites including Spotify and Apple Music as well as YouTube. If interested, please take the time to visit her Facebook profile for updates as well as links to her beautiful compositions.
The original article was written by Josh Deakin from the Bangor Daily News and published on 05/28/2021